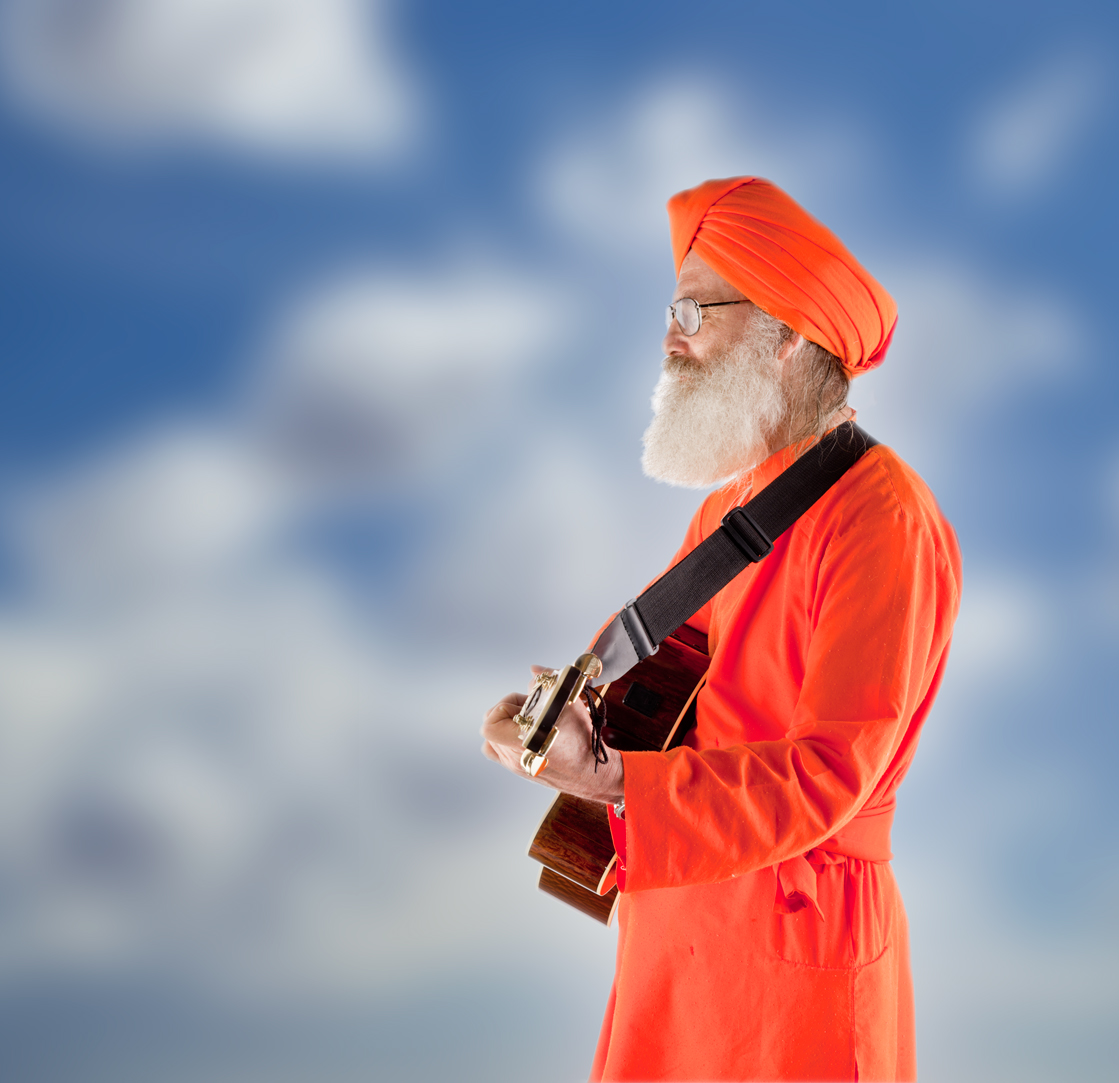 Dada Veda is a meditation and yoga teacher and a singer-songwriter. Originally from New York, he has lectured, performed and taught in more than thirty countries and is currently based in the Urbana, IL.
Dada was born in New York City in 1946 and graduated from Colgate University in 1968 with high honors. Shortly after graduating, Dada hitch-hiked to California attracted by the allure of the "counter-culture" and the then-flourishing hippie movement. In California Dada met an Indian monk who taught him meditation and he soon became an avid practitioner of yoga and meditation.
In 1976 Dada went to Sweden and entered training to become a full-time yoga monk. Dada graduated from the training in 1977. Upon graduation, Dada became an orange-robed monk of Ananda Marga. His name "Dada Veda" is a shortened form of his full monastic name Acarya Vedaprajinananda Avadhuta. "Dada" means respected elder brother.
Dada's first assignment as a yoga monk was in France.  Music was an integral part of Dada's meditation practice and he carried his guitar all around France playing spiritual songs and chants. His work as a yoga teacher soon took him around the world, including the Far East, South Asia, Europe and the Middle East.
In 2002 Dada began composing his own songs, fusing the wisdom of yoga with folk, country and rock music. Dada's first CD, "Brighter Than the Sun," was released in 2003. The CD was recorded in Albania, where Dada was doing social service and teaching meditation. Writing in All Access Magazine, reviewer Rob Swick described the album as "a set of 13 acoustic songs that should leave the listener uplifted, refreshed, and hopeful for the future."
In 2008 Dada returned to the US and started performing his songs in New York City.  There he met producer Ryan Sam and the two collaborated on a 2009 CD release, "Love is the Best." Writing in New Renaissance Magazine, music journalist Michael Lohr said, "Spiritually inspired, Globally-tinged Folk and Americana music is what you'll find on "Love Is The Best." He seamlessly melds the rhythms of rock, country and Americana folk with the ancient wisdom of Yoga, bringing together such disparate strains to create a remarkable, eclectic music collection." The album is indeed eclectic and even includes a doo-wop song and an electronic house chanting track.
In 2009 Dada shifted his base to the Midwest and teamed up with rockabilly singer Ron Cannon who produced his third CD "As the World Spins Around." Reviewer Michael Lohr wrote that the album contains "Some of the best 21st Century Americana protest music that you will find anywhere."
Dada issued an unplugged children's CD, "Do What You Can" in 2011 and in 2016 he released "Trickle on Down," an album of world music produced by Kali Wale Amen. Kali is the talented member and producer of the reggae band Amandla and this latest album includes reggae, funk and Afro-pop inspired tracks.  The title track "Trickle on Down" is about trickle-down economics, or as Dada says, "It is modern economics explained in four minutes."
Over the years Dada has written numerous magazine articles on social and spiritual topics as well as an introductory book on yoga philosophy, The Wisdom of Tantra. At the end of 2014 Dada completed his spiritual memoir From Brooklyn to Benares and Back.
In Urbana, Illinois Dada performs music at social service venues, and conducts retreats, workshops and other yoga-meditation programs. He is also a frequent flyer and offers these same programs around the world.